Your trusted Denver Tree Care Company!
Call today – 303-368-8454
Denver Tree Care Since 2004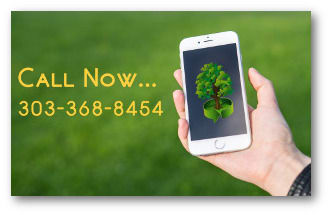 Tree Care Denver Co – Tree Care Services
Environmental Tree Care is not just our name, it is our passion. We truly care about Denver trees, which is why we are the chosen Denver tree care company for thousands of customers, including cities, companies and homeowners.
Colorado has a unique variety of trees and plants which is why it is wise to hire a tree care Denver based company to provide you with services appropriate for the health of your trees. We offer the following services, as well as certified Denver Arborist services.
Tree Fertilization Denver Co
Trees need to eat too! That is why we use EnviroTree.

Envirotree is not only used as a spring and fall fertilization but as a growth booster for any trees in stress or decline. It will help balance your trees growth and produce up to 33% new growth, larger and greener leaves and as well as add trunk mass. Using this product will also allow you to use less water on trees.
EnviroTree offers a custom mix of nitrogen, phosphate, and sulphur as well as improving the environment by increasing the growth and activity of microorganisms, critical to plant health. Remember to implement a watering schedule for your trees to help prevent drought during the hot months. Trees like a long slow drink of water. Water for about an hour every other day using a drip line. Every day if its really hot. You don't need to "deep water" the roots, the point is to soak the soil without runoff. It's really important to let the soil dry between soakings. (trees breathe through their roots too!) To test the moisture in the soil, dig about six to eight inches and feel for moisture.
Keep an eye out for drought stress. With the hot days of summer and our dry climate here in Colorado, your trees can stress easily. Look for wilting or curling of the leaves, this can be a sign of drought. However, be careful, the could also be a sign of over watering. If your trees have these symptoms and you are unsure call us for for a consultation.
EnviroTree is a very affordable product and more effective than deep root water feeding. Please call the Denver Tree Fertilization experts to begin your fertilization program.
EnviroTree Directions for Use:
Shake the product well. We have found it best to set the jug on its side and rock it back and forth.
For trees, use a full strength application. Apply from about three or four feet high to the ground directly on the bark. We generally use a 2 quart pump sprayer. Look for one that has a wide mouth to make filling easy.
Fore lawns, use an Ortho Dial-n-Spray sprayer. Apply one quart per 1,000 square feet. The setting is not that critical. We do "hot-rod" the sprayer by removing the screen on the end of the intake tube. This allows any of the larger particles to easily pass thru. On lawns we generally recommend 6 ounces per gallon and it comes out pretty fast. The product is activated by water and a lower setting will be beneficial as you will be getting the product deeper in the soil.
For flowers and shrubs, use the Ortho Dial-n-Spray sprayer set at 1 or 2. Spray both the plants and the soil.
Tree Spraying Denver Co
If your tree is infested with bores or other predators, it may be necessary to apply pesticides to eliminate the problem. This is often our choice of last resort, but it is sometimes the only possible way we can attempt to save the tree. We offer an extensive tree care plan to prevent insect infestation and disease. Damage and destruction caused by insects and disease can be devastating to a trees overall health, as health declines the odds for death increase. One of our experienced Denver arborists will inspect your trees and recommend the best insect and disease control options to keep your trees healthy for years to come.
Don't risk the life of your tree trying to do it yourself. Call your Denver Tree Doctor today to determine what is really going on and offer the best possible solution for your tree's health and your peace of mind.
If you need help fertilizing your tree or other plants, call us today or fill out the form below for a free estimate. Find out why we are the tree care Denver area company of choice for so many satisfied customers!
If you have a sick tree and you need expert help, don't forget that we have certified Denver Arborist on staff who can assist you in diagnosing and treating your sickly trees or plants!
Trusted Partners
Many Denver tree care services come and go, but we know that in today's competitive business environment, successful companies stand by their work. This is why we aim to work with Denver area organizations to ensure the highest confidence in our work. When you work with Environmental Tree Care, LLC, you are working with a local and trusted company that cares about you and will be here for you for many years to come. Call us today and find out why we are the trusted Denver tree care company for thousands of customers, cities and businesses.
Get A Quote Today!
We can provide free estimates for any Denver tree services, snow plowing, or landscaping design. Our estimates are free!
Fill out the form below and we will get back to you as soon as possible!