Your trusted Denver Tree Removal Service!
Call today – 303-368-8454
Tree Removal Denver Company Since 2004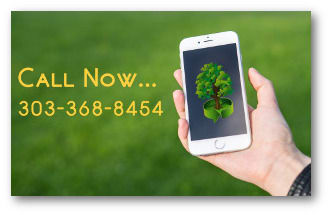 Denver Tree Removal Services
If you are looking for a tree removal Denver based company that will remove your tree right the first time, look no further than Environmental Tree Care, LLC. We are the largest and most trusted tree removal Denver, Colorado service expertly removing trees since 2004.
In choosing a Denver tree removal company, there are many factors you should keep in mind;
Safety. The safety of your family and everyone involved is at the top of the list. Therefore you need to choose a company that has the equipment and experience to safely remove trees and tree stumps. There are many companies who advertise their services as a tree removal Denver company however, they do not have the modern equipment and safety standards necessary to safely remove a multi-ton tree from your business or residence.
Liability. In choosing a tree removal service Denver CO, you should not only think about safety, but also liability! What happens if a tree falls and injures a worker on your property. Is the tree service you hired properly insured? You really don't want that kind of exposure, hence you need to hire a company that carries full insurance, as well as worker's compensation insurance for their own workers. Environmental Tree Care, LLC is committed to international safety standards and furthermore, strives at all times to conform to the latest OSHA standards of safety. This includes not only only our workers, but your family and neighbors as well. the largest Denver tree removal company, safely removing large and small trees since 2004.
Love of Trees. Like our customers, we love trees and we hate to remove them. The reality is however, that often times, a tree has run its natural course or it sits in a place where a work-a-round is not possible. When tree removal is the only option, give us a call. We will stop by your home or business and determine whether or not the tree needs to be removed. If your tree needs to be removed, we have the manpower and equipment to safely remove the tree from your property. Give us a call today or fill out the form below and we will respond as quickly as possible.
For your next tree removal Denver project, give us a call or fill out the form below for a free estimate. You will see why thousands of others have chosen Environmental Tree Care, LLC as their own Denver CO tree removal service!
Do you also have trees that need trimming? Give us a call today as we are also the largest and most trusted tree trimming Denver based service.
Trusted Partners
Many tree removal Denver services come and go, but we know that in today's competitive business environment, successful companies stand by their work. This is why we aim to work with Denver area organizations to ensure the highest confidence in our work. When you work with Environmental Tree Care, LLC, you are working with a local and trusted company that cares about you and will be here for you for many years to come. Call us today and find out why we are the trusted Denver tree removal company for thousands of customers, cities and businesses.
Get A Quote Today!
We can provide free estimates for any Denver tree services, snow plowing, or landscaping design. Our estimates are free!
Fill out the form below and we will get back to you as soon as possible!