Tree Service Lakewood Co
Looking for a reliable Denver Tree Service? We are proud to offer Lakewood CO area customers our premier tree services, as well as landscaping and snow removal.
Quick Facts: Lakewood is a Home Rule Municipality which is the most populous municipality in Jefferson County, Colorado, United States. Lakewood is the fifth most populous city in the State of Colorado and the 172nd most populous city in the United States. The city population was 142,980 at the 2010 United States Census. Wikipedia
Read below to learn about some of the services we have been offering in Lakewood since 2004 and call us for a free estimate at (303) 368-8454
Safety of your family and everyone involved is at the top of the list. At Environmental Tree Care, we have the equipment and experience to safely remove trees and tree stumps. There are many companies who offer tree removal, however, they do not have the modern equipment and safety standards necessary to safely remove a multi-ton tree from your business or residence.
Think about the liability! What happens if a tree falls and injures a worker on your property. Is the tree service you hired properly insured? You really
don't want that kind of exposure. At Environmental Tree Care, we carry full insurance, as well as worker's compensation insurance for all of our workers.
Like our customers, we love trees and we hate to remove them. But when tree removal is the only option, we will stop by your home or business and determine whether or not the tree needs to be removed. If your tree needs to be removed, we have the manpower and equipment to safely remove the tree from your property. Give us a call today or fill out the form below and we will respond as quickly as possible.
Overgrown tree limbs are not only unsightly but are dangerous! Broken and fallen limbs can seriously injure you or cause tremendous damage to personal property. Call now. We will be happy to give you an estimate to trim your branches and save your trees! Call (303) 368-8454
Lopping off a few low hanging limbs is fine for a weekend project, but large trees require professional equipment and expertise. It is not worth your life or health to trim large branches yourself. Environmental Tree Care, LLC is licensed and bonded and we have the right equipment to get the job done right the first time.
Pruning your trees is essential for producing strong, healthy and attractive trees. On the Front Range, the primary reasons for pruning ornamental and shade trees are safety, the health of the trees, as well as the aesthetic value. Pruning can also stimulate fruit production and increase the value and the life of the trees.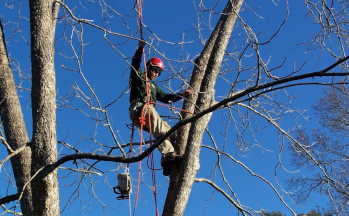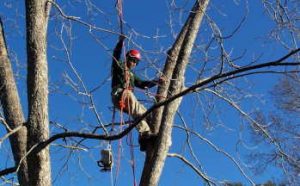 Ask about our winter tree pruning service for special species trees that should only be pruned in the Winter season, between December and March. We have certified arborists on staff, who know which trees need to be pruned and where they need pruning.
Environmental Tree Care, LLC has been pruning Denver trees since 2004. Our record for service and safety is impeccable.
Once a live tree is cut down, the roots may continue to grow and produce new growth. It is important to grind tree stumps to start the decaying process of the root system. Here in Colorado weather plays a major role in many of our tree stump grinding and removal jobs. We fight lightning strikes, high winds and trees being destroyed by the weight of heavy snow. When you contact Environmental Tree Care, LLC our arborist will discuss your stump grinding and root removal options. We will also go over clean up and debris removal.
In addition, we can talk about your options for leveling the area and backfilling the hole with clean soil. All of these services will be discussed and put in writing before we begin work at your home or place of business.
A trained, certified and professional Arborist can help you diagnose and treat tree diseases, from minor problems to serious illnesses. Many tree companies are nothing more than trimmers and cutters. As certified Arborists, we love our Colorado trees as much as you do and will use our many years of experience and professional certifications to help you save your tree, not destroy it.
In diagnosing your tree problems, we may prescribe a tree trimming, a slight pruning, or perhaps offer some of our other services.
As certified Arborists, we know how to provide a complete tree care solution for all of your tree needs, including, when necessary, tree fertilization and tree spraying to kill unwanted pests.
Need help with your Lakewood snow removal or landscaping? Environmental Tree Care, LLC wants to be your snow removal, landscaping, and tree service, provider!
Weather on the Front Range and in Lakewood can be severe. We get large hail, severe winds, and tornados. When these storms blow through, our trees can be badly damaged. If you have a damaged limb overhanging your property, or if you have a tree that is badly damaged, we provide emergency tree services to save your tree or your property from further damage.
Our company supplies premium Denver firewood which is all locally grown. We are proud to offer all kinds of firewood, seasoned and mixed firewoods to Denver area residents and businesses. We offer hardwood firewoods, such as Oak, Maple, Ash, Locust, Elm. We also offer softwood firewoods, such as Pine and Aspen.
Premium firewood is seasoned at least one year. Mixed firewood has some seasoned and some greener wood.
Call us today for a free estimate on your next load of firewood. Call (303) 368-8454
We offer both commercial snow plow and residential snow plow services.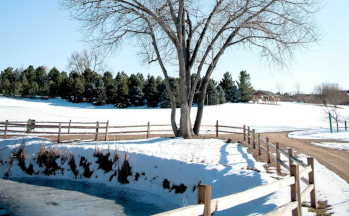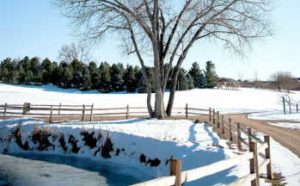 Commercial Snow Plow Services
Whether you have a large parking lot or 10 parking lots, we can remove the snow to keep your business moving. We have the equipment and the experience to move tons of snow, often on short notice. Give us a call today and let us provide a bid as you gear up for the next Lakewood snow season.
Residential Snow Plow Services
If you need snow removed from your street or your driveway, give us a call today so you can get out of your home, even when the snow is piling up.
We have regular routes for snow removal services in the Lakewood area. We will make sure that our Colorado snow season is an easy one on your back! Let us take care of all your snow removal this winter season. Our rates are more affordable than you may think.
Environmental Tree Care, LLC is proud to offer landscaping services to our Lakewood customers.
On the Front Range, we love being outdoors and we love our outdoor spaces.
If you dream about an outdoor space you can be proud to show off to your friends and family, you have come to the right place.
We can design and build your dream, right in your own back yard. Whether your dream is to build a gorgeous garden space, a timber-framed trellis covering a stone patio, or perhaps an outdoor fire pit, then look no further than Environmental Tree Care, LLC.
Give us a call today or complete the form below and we would be happy to provide a 100% free estimate.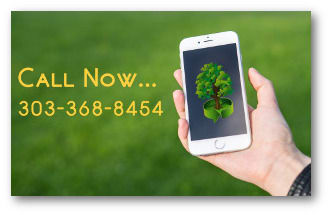 Give us a call today at (303) 368-8454, or fill out the form below and we will contact you as soon as possible to provide a free estimate.
We Are Proud to Serve Lakewood, Co
Get A Free Estimate Today
Fill out the form below and we will get back to you as soon as possible!